Bose QuietComfort 20 Acoustic Noise Cancelling headphones (QC20)
Bose QuietComfort 20 Acoustic Noise Cancelling headphones (QC20)
The QuietComfort 20 Acoustic Noise Cancelling headphones let you enjoy better sound every day, everywhere you go. Shut out the world and lose yourself in your music—or let the world in. It's your choice with the first in-ear noise cancelling headphones from Bose. Ap
... more
EAN: 0017817658515
Man. Part No.: QuietComfort 20 Acoustic Noise Cancelling headphones QC20
Bose QuietComfort 20 Acoustic Noise Cancelling headphones
Apple / Samsung / Android
...all available at checkout...
In the box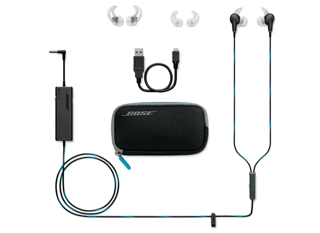 Included items
- QuietComfort® 20 headphones for Apple® devices
- 3 pairs StayHear®+ tips (S, M, L)
- Clothing clip
- Rechargeable lithium-ion battery (built-in)
- USB charging cable
- Carrying case
In ear. Noise cancelling. Better sound.
Shut out the world and lose yourself in your music—or let the world in. It's your choice with the first in-ear noise cancelling headphones from Bose. The QuietComfort® 20 Acoustic Noise Cancelling headphones let you enjoy better sound every day, everywhere you go. Turn on noise cancelling to reduce surrounding distractions and focus on your music. Or, at the touch of a button, activate Aware mode to hear what's happening around you. Proprietary StayHear®+ tips provide a soft, secure fit. The inline microphone and remote let you switch easily to calls and control of certain functions.
Choose either the QC20 Apple device model or the QC20 Samsung and Android model to use with your respective device when adding to your basket.
- Bose® noise cancelling technology, shut out the world and focus on your music
- Aware mode to hear what's around you at the press of a button
- Deep, clear sound from the Active EQ and TriPort® technology
- Soft, and secure for hours of listening from proprietary StayHear®+ ear tips
Lose yourself in your music
QC20 headphones let you experience music on the go as never before. You'll enjoy lifelike, digital sound quality that stands out from the noise around you—plus the freedom of an in-ear headphone. StayHear®+ tips physically block some noise while our Acoustic Noise Cancelling technology electronically reduces most of what's left. It's just you and your music, even in noisy environments.
Tune in to your environment
But there are moments when you may not want to be so cut off from your surroundings. Crossing a city street. Waiting for airline gate announcements. This is where Aware mode comes in. Instead of removing your headphones, just press a button, and you're back in touch with the sounds around you—while your music keeps playing, and you still experience some noise cancellation.
Engaging sound
All this, plus Bose lifelike sound. Sound you wouldn't expect from in-ear headphones. Our TriPort® technology and Active EQ combine to give your music a depth and balance that keep your daily soundtrack fresh and alive. The subtle details shine through, too. So wherever you are, your music's front and center.
Advanced ear tip technology
And your music's even easier to enjoy when you're not fussing with your headphones. Proprietary StayHear®+ tips create a soft, secure fit with no need to force them into your ears. The cone shape spreads contact evenly across the ear for maximum comfort, and forms a gentle seal that contributes to the headphones' full-spectrum noise reduction.
You're in control
Controls are all at your fingertips. Use the slider switch on the control module to turn noise cancelling on and off. The inline microphone/remote houses Aware mode and call answer/end buttons. The 4-button remote, provides volume and music control plus access to voice-recognition apps, like Siri® or Google search.
Rechargeable battery
The lithium-ion battery (located inside the module) charges in just 2 hours with the included USB cable, and delivers up to 16 hours playing time per charge. A battery indicator light displays power status. And, even if the battery dies your music still plays with performance equal to that of our regular in-ear headphones.

When not in use, simply store your headphones and cables in the included carrying case.
Additional Information
| | |
| --- | --- |
| Promotion | No |
| Manufacturer's Part No. | QuietComfort 20 Acoustic Noise Cancelling headphones QC20 |
| EAN | 0017817658515 |
| Amplifier Award | No |
| awards | No |
| Warranty | 2 yrs |
| Max Amplifier Power | No |
| Wireless | No |
| In-Built Microphone | Yes |
| Headphone Type | In-Ear |

Finance options* to help you afford the product you want!
If your order value is £389.00 or over you will be given the option to buy on finance when you reach the checkout. We have two finance options available:
Buy Now Pay 6 Months Later
Buy Now Pay 12 Months Later
Please Note: A minimum 10% deposit is payable up front on credit or debit card on all finance orders.
How to Apply
Applying for finance is simple. All you need to do is call us on 0800 634 4484 during opening hours and we will be able to process your order.
Who is the finance agreement with?
The finance agreement is with Hitachi Consumer Credit, one of the largest money lenders in the UK.
*Finance is available to UK applicants 18 years of age or older and subject to status. Finance is not available for business customers. Prices are correct at time of going to press and are subject to change during the term of this offer without notice. Terms and conditions are available on request. Finance agreements are available on orders between £389 and £10,000 (including VAT and shipping). Please ensure you are able to keep up repayments of any finance package taken.
Now Group UK Ltd trading as Exceptional AV operates under a Consumer Credit Licence, No. 560813.
This licence is issued by The Director General of Fair Trading at the Office of Fair Trading in accordance with the Consumer Credit Act 1974.
Featured
Brands