Bose Soundlink III Bluetooth Speaker
Bose Soundlink III Bluetooth Speaker
The Bose SoundLink III Bluetooth speaker is our best-performing mobile Bluetooth speaker. Meet the speaker that brings your music and friends together—with a style that's all your own.
EAN: 017817613897
Man. Part No.: SoundLink Bluetooth speaker III
Bose Soundlink III Bluetooth Speaker


Share the music. Show your style.
Meet the speaker that brings your music and friends together—with a style that's all your own. The SoundLink® Bluetooth® speaker III is our best-performing mobile Bluetooth® speaker. It plays louder and longer than its popular predecessor, with advanced Bose® technologies that reproduce the fullness, clarity and depth of your music. And a colourful assortment of optional covers let you personalise your speaker.

- Our best-performing Bluetooth® speaker plays your music with fullness, depth and clarity
- Wireless connection to your smartphone, tablet or other Bluetooth® device
- Up to 14 hours of music from rechargeable lithium-ion battery
- Coloured accessory covers personalise your speaker and provide further protection from scratches (Options available when adding to your cart)


Pair and play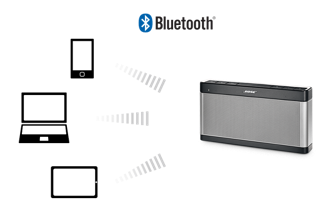 This compact speaker pairs easily with your smartphone, iPad or other Bluetooth® device. It has a range of about 9m, so you can enjoy the sound you want without wires. Simply press and hold theBluetooth® button on the speaker's top panel, and then choose the SoundLink® speaker III from your device. The speaker remembers the six most recent devices you've used, so reconnecting is even simpler.
Powerful performance
It's no secret: your music is the foundation for a good time. And this speaker delivers. Four drivers and two passive radiators provide full-spectrum audio and clarity at any listening level. Plus, you'll hear incomparable bass performance not found in other mobile speakers. And improvements in digital signal processing let you share your music louder than the previous version of our Bluetooth® speaker.

Form and function
Not only will sound draw a crowd, but this speaker also has a sleek look you'll appreciate. Curved edges and a thin profile make a bold statement, especially when you add a touch of colour with an optional cover. The speaker easily slips right into a bag or backpack. The silicone button panel protects it from dirt and dust, while a wraparound metal grille adds to its durability and resists fingerprints.

Personalise it!
Optional soft covers add flair—and further protection—for your SoundLink® speaker III.
More features
- Aux input enables audio connections from other sources, increasing versatility of system
- USB port allows for software update to ensure ongoing Bluetooth® device compatibility
- Compact power adapter folds flat to fit easily in a bag, ideal for extended trips
- Optional 12V car charger for charging your speaker while on the road.
Additional Information
| | |
| --- | --- |
| Promotion | No |
| Manufacturer's Part No. | SoundLink Bluetooth speaker III |
| EAN | 017817613897 |
| Speaker Type | Active/Wireless |
| Speaker Award | No |
| awards | No |
| Colour | No |
| Type of Connection | No |
| Type of Finish | No |
| Type of Tweeter | No |
| Recommended Amplifier Requirements | No |
| Number of Drivers | N/A |
| Driver Size | No |
| Features | 3.5mm Mini-Jack, Bluetooth (In-Built) |
| Speaker Dimensions | (HxWxD) 131 x 256 x 48 mm |

Finance options* to help you afford the product you want!
If your order value is £389.00 or over you will be given the option to buy on finance when you reach the checkout. We have two finance options available:
Buy Now Pay 6 Months Later
Buy Now Pay 12 Months Later
Please Note: A minimum 10% deposit is payable up front on credit or debit card on all finance orders.
How to Apply
Applying for finance is simple. All you need to do is call us on 0800 634 4484 during opening hours and we will be able to process your order.
Who is the finance agreement with?
The finance agreement is with Hitachi Consumer Credit, one of the largest money lenders in the UK.
*Finance is available to UK applicants 18 years of age or older and subject to status. Finance is not available for business customers. Prices are correct at time of going to press and are subject to change during the term of this offer without notice. Terms and conditions are available on request. Finance agreements are available on orders between £389 and £10,000 (including VAT and shipping). Please ensure you are able to keep up repayments of any finance package taken.
Now Group UK Ltd trading as Exceptional AV operates under a Consumer Credit Licence, No. 560813.
This licence is issued by The Director General of Fair Trading at the Office of Fair Trading in accordance with the Consumer Credit Act 1974.
Featured
Brands