Yamaha RX-V383 AV Receiver w/ Monitor Audio MASS Speaker Package 5.1
Yamaha RX-V383 AV Receiver w/ Monitor Audio MASS Speaker Package 5.1
Yamaha RX-V383 AV Receiver with Monitor Audio Mass (5.1) Speaker Package
EAN: 4957812616317
Man. Part No.: RX-V383
Yamaha RX-V383 w/ Monitor Audio MASS (5.1)

Yamaha RX-V383 AV Receiver
5.1-channel AV receiver with fully discrete audio construction plus many advanced functions.


- 5-channel powerful surround sound
--- 70 W per Channel (6 ohms, 20 Hz-20 kHz, 0.09% THD, 2-ch driven)
--- 100 W per Channel (6 ohms, 1 kHz, 0.9% THD, 1-ch driven)
--- 135 W per Channel (6 ohms, 1 kHz, 10% THD, 1-ch driven)
- Discrete amp configuration
- Bluetooth® for wireless music streaming
- Bluetooth Output for convenient music streaming
- Compressed Music Enhancer for Bluetooth
- HDMI® (4 in / 1 out) with 4K Ultra HD full support, HDR Video including Dolby Vision and Hybrid Log-Gamma, and BT.2020
- Front panel USB Digital Connection for USB thumbdrives
- YPAO™ sound optimisation for automatic speaker setup
- Dialogue Level Adjustment for proper sound balance with dialogue and vocals
- Virtual CINEMA FRONT provides virtual surround sound with 5 speakers in front
- Multi-language colour OSD capable of displaying cover art
- ECO mode operation for about 20% less power consumption
Features

Bluetooth®-Compatible for Wireless Music Streaming
This AV receiver is equipped with Bluetooth functionality to let you enjoy easy wireless music playback from smartphones and other devices. The Compressed Music Enhancer from Yamaha is now optimised for Bluetooth audio transmissions to ensure that your music will have vivid, lively sound quality during wireless playback.
Bluetooth Output for Convenient Music Streaming
The RX-V383 is equipped with the latest Bluetooth technology, making wireless operation more convenient than ever. You can stream music from the RX-V383 to Bluetooth headphones for private listening or to Bluetooth speakers.
4K Ultra HD Full Support with 4K / 60p, HDCP2.2, HDR Video Including Dolby Vision and Hybrid Log-Gamma, and BT.2020 Pass-through
This AV receiver completely supports with latest HDMI® standards. Thanks to transmission of 4K video at 60 frames per second pass-through, you can fully enjoy the high definition video quality of 4K without degradation. It also adheres to the HDCP2.2 copyright protection standard for 4K video transmission. It also supports HDR (High Dynamic Range) Video including Dolby Vision and Hybrid Log-Gamma which provides incredible contrast, smooth tone and rich, bright colours. Furthermore it supports the wider colour gamut of BT.2020 pass-through. This AV receiver is also compatible with 3D, Audio Return Channel and CEC for easy operation.
*Dolby Vision and Hybrid Log-Gamma will be available via future firmware update.
Discrete Amp Configuration for High Sound Quality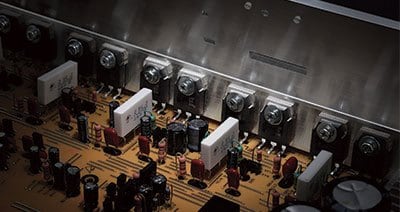 This AV receiver was designed with a strong focus on achieving exceptionally high sound clarity. It employs a discrete amp configuration and a low jitter PLL circuit, which contribute to its excellent audio performance.
AV Setup Guide App Makes System Setup Easier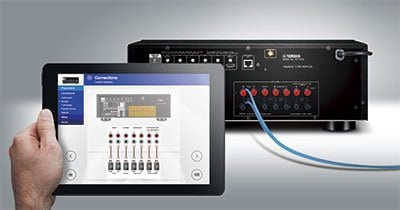 AV Setup Guide is an app that makes it much easier to perform receiver setup, and also assists you with cable connections between the AV receiver and source devices. It guides you through various settings such as speaker connections, TV and source device connections and power amp assignment. System illustrations and actual AV receiver images help you understand how to make the connections between devices, for much quicker system setup. It is available in multiple languages. Designed for iOS and Android tablet.
SCENE for One-Touch Start

Pressing a SCENE button powers on the AV receiver and selects the input source and DSP mode. You can re-set the buttons for different sources by selecting a source and DSP mode, then pressing a SCENE button for more than three seconds.
YPAO™ Sound Optimisation for Automatic Speaker Setup
YPAO analyses the room acoustics and adjusts various audio parameters for optimum sound in just a few minutes. It's like having a professional installer calibrate your system.
HD Audio with CINEMA DSP
Yamaha's exclusive CINEMA DSP technology supports playback of HD Audio (Dolby TrueHD, DTS-HD Master Audio, etc.), providing natural and expansive sound imaging.
Virtual CINEMA FRONT Provides Virtual 5-channel Surround Sound with High Quality and Resolution
Even when it is impossible to install surround speakers behind the listening position, Virtual CINEMA DSP reproduces virtual 5-channel surround sound filled with realism, with only two front speakers. With Virtual CINEMA FRONT, you will enjoy virtual 5-channel surround sound with higher quality and resolution by installing surround speakers at the front. You get more flexibility to arrange your speakers inside the room, along with easy enjoyment of high quality surround sound.
Extra Bass Provides Rich Bass Reproduction, Even with Small Speakers
Yamaha' s exclusive low-range enhancement technology delivers richer bass than you expect from the speaker size while maintaining good localisation and sound balance even with compact front speakers. When a subwoofer is used, it improves the volume of the entire low range of the speaker system, not only the front speakers, but also enhancing the bass from the subwoofer. You'll enjoy video and music with sound that has exceptional power and presence.
Subwoofer Trim for Improved Sound Imaging
The Subwoofer Trim control enhances the low frequencies by avoiding overlap with the front speaker output. This will result in a cleaner, more focused sound stage while providing a seamless frequency response. When subwoofer frequency overlap occurs in conventional systems, the overall sound is "pushed" toward the subwoofer. Subwoofer Trim takes care of this by separating the low subwoofer frequencies cleanly, thus stabilising the front stage while providing a well-balanced enhanced bass sound.
ECO mode Lowers Power Consumption by 20%*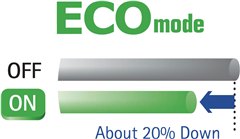 Yamaha's new ECO mode reduces power consumption by about 20%. It can be set from the top of the GUI menu.
*Compared to power consumption when ECO mode is off (Yamaha measurement).
Selectable Auto Power Standby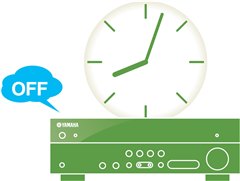 Auto Power Standby lets you save energy by selecting to turn off the power after 20 minutes, 2, 4, 8 or 12 hours.
Monitor Audio Mass 5.1 Speaker Package
Monitor Audio Mass AV is a design lead ultra compact 5.1 channel home cinema speaker system built to delivery clear and crsip details of the latest high definition Blu-Ray Movies. Mass comprises of the Mass 10 front and rear channel speakers, Mass Centre and is completed by the Mass W200 Subwoofer.
Delivering the explosive charge of the latest hi-def movie soundtracks is Monitor Audio's diminutive MASS home cinema system. Its sculpted space-efficient design, packed with technology and easy-installation features, offers jaw-dropping audio dynamics with décor-friendly styling, making the introduction of high quality home cinema sound into any living space a simpler and more satisfying experience. MASS is a beautiful, expertly conceived union of precision engineered acoustics and aesthetics.
Forty years of award-winning audio design has been focussed on refining the architecture of the two main system models: a compact satellite speaker and active subwoofer. Both are ground-up designs, involving the specification of wholly new signal path components to redefine the performance possible from low-profile cabinets.
Computer simulation, exhaustive testing and in the final analysis, dedicated listening have created perfectly optimised audio products, bristling with Monitor Audio's flagship technologies and tuned as one to reproduce the widest, cleanest spectrum of frequencies for truly compelling home cinema entertainment.

Features:
- Ultra-compact 5.1 channel home cinema speaker system
- Similar and stylishly curved MASS 10 Satellite and Centre speaker for excellent imaging
- All C-CAM® drivers
- Highly damped enclosures, cross-braced with tie-bolt driver fixings.
- HiVe® reflex ports
- Discreet cable termination
- Wall and stand mount ready (dedicated stands available separately)
- Black cloth finish with contrasting solid aluminium end caps
- Powerful 10", 200W active subwoofer with 10" Auxiliary Bass Radiator
Additional Information
| | |
| --- | --- |
| Promotion | No |
| Manufacturer's Part No. | RX-V383 |
| EAN | 4957812616317 |
| Amplifier Brand | Yamaha |
| Amplifier Award | No |
| HDMI In | 4 |
| HDMI Out | 1 |
| Amplifier Power | 100 |
| Number of channels | 5,1 |
| Dolby Atmos | No |
| DTS: X | No |
| Video Upscaling | No |
| Connections | Analog, Component, Composite, Digital Coaxial, Digital Optical (TOSLINK), FM/AM, HDMI, Headphone, Subwoofer, USB |
| Features | 4K Passthrough, Audio Return Channel (ARC), Automatic Speaker Calibration, Bluetooth (In-Built), FM/AM, USB |
| Speaker Type | Satellite |
| Number of Drivers | N/A |
| Multi-Room Zones | No |
| Speaker Dimensions | Fronts: 224 x 128 x 128/Centre: 128 x 228 x 128/Subwoofer: 420 x 385 x 385 mm |
| Speaker Award | 5Star, Group Test Winner, WHF Awards Winner 2012/13 |
| Amplifier Dimensions | 435 x 151 x 315 mm |
| Warranty | Amplifier:2/Speakers: 5/Subwoofer: 2 |
| Model | No |
Finance options* to help you afford the product you want!
If your order value is £389.00 or over you will be given the option to buy on finance when you reach the checkout.
Please note that not all products are available on finance.


We have two finance options available:
Buy Now Pay 6 Months Later
Buy Now Pay 12 Months Later
Please Note: A minimum 10% deposit is payable up front on credit or debit card on all finance orders.
How to Apply
Applying for finance is simple. All you need to do is call us on 0800 634 4484 during opening hours and we will be able to process your order.
Who is the finance agreement with?
The finance agreement is with Hitachi Consumer Credit, one of the largest money lenders in the UK.
*Finance is available to UK applicants 18 years of age or older and subject to status. Finance is not available for business customers. Prices are correct at time of going to press and are subject to change during the term of this offer without notice. Terms and conditions are available on request. Finance agreements are available on orders between £389 and £10,000 (including VAT and shipping). Please ensure you are able to keep up repayments of any finance package taken.
Now Group UK Ltd trading as Exceptional AV operates under a Consumer Credit Licence, No. 560813.
This licence is issued by The Director General of Fair Trading at the Office of Fair Trading in accordance with the Consumer Credit Act 1974.