Yamaha RX-V683 AV Receiver w/ Dali Zensor 7 Speaker Package 5.1
Yamaha RX-V683 AV Receiver w/ Dali Zensor 7 Speaker Package 5.1
Yamaha RX-V683 AV Receiver w/ Dali Zensor 7 (5.1) Speaker Package - Includes Cable Bundle worth £143.99
EAN: 4957812617628
Man. Part No.: RX-V683
Yamaha RX-V683 w/ Dali Zensor 7 (5.1)
Yamaha RX-V683 AV Receiver
7.2-channel AV receiver with versatile connectivity to take full advantage of the high AV quality.
- Dolby Atmos® and DTS:X™ support
- MusicCast for audio enjoyment in every room
- 7-channel powerful surround sound
--- 90 W per channel (8 ohms, 20 Hz-20 kHz, 0.06% THD, 2-ch driven)
--- 150 W per channel (4 ohms, 1 kHz, 0.9% THD, 1-ch driven)
--- 150 W per channel (8 ohms, 1 kHz, 10% THD, 1-ch driven)
- Wi-Fi Built-in and Wireless Direct Compatible for Easy Network
- Bluetooth® for wireless music streaming and Compressed Music Enhancer for Bluetooth
- AirPlay®, Spotify®*, Pandora®*, Napster®*, Tidal*, Deezer*, Qobuz*, JUKE* music streaming service
*Music service availability varies by region.
- DSD 2.8 MHz / 5.6 MHz, FLAC / WAV / AIFF 192 kHz / 24-bit, Apple® Lossless 96 kHz / 24-bit playback
- HDMI® (6 in / 1 out) with 4K Ultra HD full support, HDR Video including Dolby Vision and Hybrid Log-Gamma, and BT.2020
- HDMI input on front panel, Front panel USB Digital Connection for USB thumbdrives
- YPAO™ Reflected Sound Control (R.S.C.) sound optimisation for automatic speaker setup
- YPAO Volume to ensure natural sounds even at low volume
- Virtual Surround Back Speaker for playing 7.1-channel content with a 5.1-channel system
- Zone Extra Bass and Zone Volume Equalizer (Zone 2)
- Versatile Zone control such as Zone mono, Zone volume, Zone tone controls, etc. and Party mode
- Phono input for vinyl playback
Features
Enter a New World of Sound with Dolby Atmos® and DTS:X™
These sound technologies transport you from an ordinary moment into an extraordinary experience with captivating, multidimensional sound that fills your room with amazing richness and depth. These sound technologies allow for music, people and objects to come alive in breathtaking detail and flow in precise choreography all around you, making you feel like you are right in the middle of the story.
Speaker Layout Patterns Designed for Dolby Atmos Playback
Yamaha provide multiple placement patterns for presence speakers that support Dolby Atmos, creating a sound field that's ideal for your setup. Any layout can be appropriately reproduced, including the three-dimensional space of CINEMA DSP as well as Dolby Atmos.
Furthermore YPAO™ R.S.C. which optimises the listening environment and fundamental high quality audio design takes full advantage of the detailed spatial localisation capability of Dolby Atmos.
The combination of Dolby Atmos and Yamaha AV receivers will fill the room with multidimensional sound that makes you feel as if you are right in the middle of the story unfolding on the screen.
MusicCast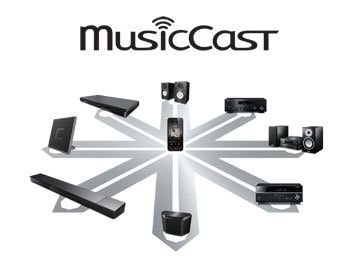 MusicCast is a new revolution in network audio, use all your MusicCast products together or separately, it's completely up to you. Control it, all from one app, designed to be intuitive, quick and simple to use. Use a soundbar, a wireless speaker, an AV Receiver, HiFi audio whichever suits you best, mix and match then expand your MusicCast system as time goes on. All new from Yamaha, the MusicCast system brings everything to everywhere for everyone.


MusicCast Expands Entertainment Possibilities
MusicCast employs a high performance wireless network to deliver music and audio enjoyment. It can stream digital music content from your smartphone, PC or NAS to other MusicCast devices in your home. It can also share the music from external devices such as a TV or Blu-ray Disc™ player connected to the RX-V683. Audio content from Bluetooth®-connected smartphones or tablets can also be streamed to MusicCast devices in multiple rooms.
Bluetooth®-Compatible for Wireless Music Streaming
This AV receiver is equipped with Bluetooth functionality to let you enjoy easy wireless music playback from smartphones and other devices. The Compressed Music Enhancer from Yamaha is now optimised for Bluetooth audio transmissions to ensure that your music will have vivid, lively sound quality during wireless playback.
Bluetooth Output for Convenient Music Streaming
The RX-V683 is equipped with the latest Bluetooth technology, making wireless operation more convenient than ever. You can stream music from the RX-V683 to Bluetooth headphones for private listening or to Bluetooth speakers.
4K Ultra HD Full Support with 4K / 60p, HDCP2.2, HDR Video Including Dolby Vision and Hybrid Log-Gamma, and BT.2020 Pass-through
This AV receiver completely supports with latest HDMI® standards. Thanks to transmission of 4K video at 60 frames per second pass-through, you can fully enjoy the high definition video quality of 4K without degradation. It also adheres to the HDCP2.2 copyright protection standard for 4K video transmission. It also supports HDR (High Dynamic Range) Video including Dolby Vision and Hybrid Log-Gamma which provides incredible contrast, smooth tone and rich, bright colours. Furthermore it supports the wider colour gamut of BT.2020 pass-through. This AV receiver is also compatible with 3D, Audio Return Channel and CEC for easy operation.
*Dolby Vision and Hybrid Log-Gamma will be available via future firmware update.
Wi-Fi Built-in and Wireless Direct Compatible for Easy Network
Wi-Fi Built-in capability allows wireless connection with your household wireless router, greatly simplifying system connections to enjoy network audio and music streaming services. If no Wi-Fi router is available, the unique Wireless Direct feature not only allows you to stream music directly from your smartphone or tablet via AV Controller App's Music Play feature, iOS's AirPlay® etc, but also control your receiver using the AV Controller app.
Network Functions
This AV receiver provides a variety of network functions that enable you to access more sources and also enhance operation. You can connect the receiver to your home network or internet to enjoy Internet Radio, Spotify*, Pandora®*, Napster®*, SiriusXM*, Tidal*, Deezer*, Qobuz*, JUKE* or music stored on a NAS and home PC. The AV Controller app (from iTunes® App Store or Google play) lets you control various functions from your iPod®, iPhone®, iPad® or Android™ phones / tablets.
*Music service availability varies by region.
AV Controller App for Easy, Convenient Operation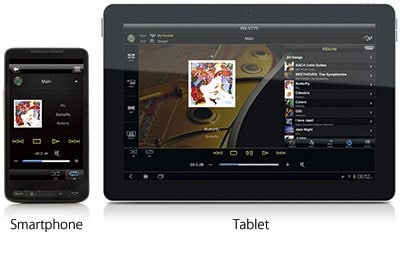 This AV receiver lets you use the Yamaha AV Controller app that is downloadable from the iTunes App Store or Google Play to control power on / off and volume, select input and DSP modes and operate other functions from an iPhone or Android devices. You can also use in as many as 23 different languages and customise the interface by hiding unused icons and renaming functions. A tablet version is also available.
DSP Parameter Adjustment for Easy and Detailed Setting
This AV receiver is equipped with a variety of sound programmes that utilise Yamaha's original DSP technology. They allow you to easily create sound fields like actual movie theatres or concert halls in your room and enjoy natural stereoscopic sound fields. Now you can use the AV Controller app to adjust DSP parameters to your preference to match the type of music / movie or the mood you want to achieve. There are two modes, Basic and Advanced, that you can choose according to the type of adjustments you want to do.
AirPlay Allows Streaming Music to AV receiver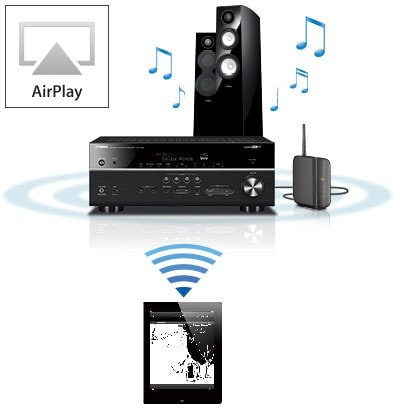 This AV receiver supports AirPlay, which means they can accept wireless music streaming from iPod touch®, iPhone or iPad, as well as from iTunes on Macs or PCs. This makes it easy to enjoy music from your mobile devices or computer on your home theatre system. You can use view metadata such as song title, artist name as well as album art* via AV receiver's on-screen display.
*Some models don't support album art display.
Stream Millions of Songs with Spotify Connect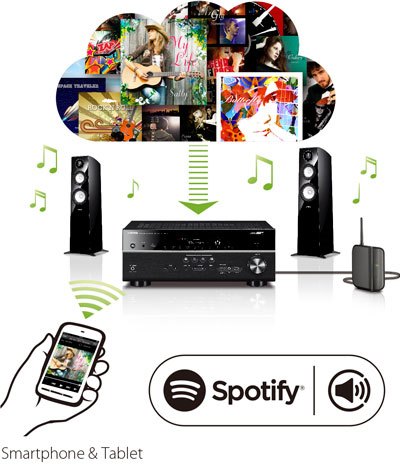 With the Spotify app on your smartphone, you've got instant access to millions of songs. And now you can stream those songs to your Yamaha system by using Spotify Connect. Just hit play to start streaming music. What's more, when you've been listening on your smartphone outside and come inside, the song immediately streams to your AVR—like magic, you enjoy uninterrupted music. You can also personalise playlists and receive phone calls while listening to music.
*The Spotify app and premium account are required. Visit spotify.com for more details.
Try Spotify Premium for free on your Yamaha Home Entertainment System for 30 days.
*Spotify service availability depends on regions.
Extensive Audio Codec and Format Support

This AV receiver is compatible with many audio formats such as Dolby® True HD and DTS-HD Master Audio™. It is also compatible with high resolution audio codec such as DSD / AIFF / FLAC / WAV / Apple® Lossless. You will enjoy excellent sound quality of various high resolution audio codec from USB and network content.
Gapless Playback Compatibility Allows Play without Interruption*
Many live and classical albums have no gaps in the music. Gapless playback ensures that there are no pauses between audio files. This provides playback with no interruptions, the way it was meant to be heard.
*Compatible with WAV, FLAC and ALAC file formats, and input from USB / PC / NAS.
Phono Input for Vinyl Playback
This AV receiver provides Phono input terminals. Connect a turntable and you can enjoy music from your vinyl collection.
Total Purity Concept for the Finest Sound Quality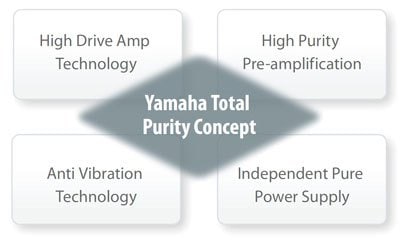 The Total Purity Concept, which Yamaha has been cultivating for many years, encompasses high drive amp technology, high purity pre-amplification, anti-vibration technology and independent pure power supplies. All models have a fully discrete power amplifier that helps to minimise distortion. They also adopt independent pure power supplies, allowing dedicated power supplies for the analogue and digital circuitry to prevent digital noise from affecting analogue circuitry. The anti-vibration heatsinks are designed to suppress vibration from transistors and sound pressure. Independent power supplies for the DACs are designed to further eliminate noise on certain models. Down to every detail, these AV receivers are designed with full emphasis on the highest possible sound quality.
Discrete Amp Configuration for High Sound Quality
This AV receiver was designed with a strong focus on achieving exceptionally high sound clarity. It employs a discrete amp configuration and a low jitter PLL circuit, which contribute to its excellent audio performance.
AV Setup Guide App Makes System Setup Easier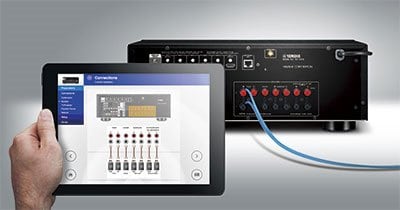 AV Setup Guide is an app that makes it much easier to perform receiver setup, and also assists you with cable connections between the AV receiver and source devices. It guides you through various settings such as speaker connections, TV and source device connections and power amp assignment. System illustrations and actual AV receiver images help you understand how to make the connections between devices, for much quicker system setup. It is available in multiple languages. Designed for iOS and Android tablet.
Advanced Multi-language GUI On-screen Display
Yamaha' s latest Graphical User Interface has a high resolution display for characters, icons and images, with clear, easy-to-use menus. It also includes a selectable Status Bar that shows input source, volume level, DSP mode and audio format. The GUI provides a choice of eight languages: English, French, German, Spanish, Italian, Russian, Japanese and Chinese, and can be displayed over both normal and 3D pictures.
SCENE Buttons with the Ability to Preset Songs and Stations


There are four SCENE buttons. You can preset them for different inputs, as well as a sound field programme, Music Enhancer, HDMI output and more. The inputs can be set to specific sources, such as an FM or Internet radio station, a station on a streaming service, a USB device or a song on a PC or NAS (network). Once you have set the buttons, simply press one on the main unit or the remote control to power on the receiver and hear your desired music. The buttons can be re-set at any time.
YPAO™-R.S.C. (Reflected Sound Control) Sound Optimisation
YPAO-R.S.C. analyses room acoustics and measures various speaker characteristics, then calibrates audio parameters to achieve optimum sound. It employs Reflected Sound Control to correct early reflections for studio-quality sound. It also provides DSP Effect Normalisation, which varies the CINEMA DSP parameters according to the reflected sounds.
YPAO Volume to Ensure Natural Sounds Even at Low Volume
Human ears have less sensitivity to high and low frequencies, especially at lower volumes. YPAO Volume applies loudness EQ correction to automatically adjust high and low frequency levels as volume changes. Using the YPAO measurement results, EQ correction is optimised to your system settings and listening environment.
HD Audio with CINEMA DSP 3D and Virtual Presence Speaker
CINEMA DSP 3D provides a wide, high and dense sound field. HD Audio format decoding lets you enjoy HD Audio sources. Virtual Presence Speaker delivers 3-dimensional sound without actual use of presence speakers.
Virtual Presence Speaker and Virtual Surround Back Speaker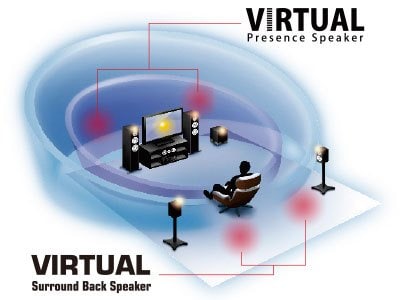 The Virtual Presence Speaker function makes full use of centre and surround speakers to create virtual presence speakers. Enjoy CINEMA DSP 3D Mode surround sound even in environments where speaker installation is limited. In addition, This model also features a Virtual Surround Back Speaker function. Even without using surround back speakers, you can experience more natural sound from behind you.
Virtual CINEMA FRONT Provides Virtual 7-channel Surround Sound with High Quality and Resolution
Even when it is impossible to install surround speakers behind the listening position, Virtual CINEMA DSP reproduces virtual 7-channel surround sound filled with realism, from only two front speakers. The Virtual CINEMA FRONT feature lets you place two surround speakers and a centre speaker at the front to enjoy virtual 7-channel surround sound with even higher quality and resolution, as well as superior rear virtual sound localisation. Adding two additional front presence speakers provides a three-dimensional sound field that gives you a feeling of its height and depth and of the vertical movement of the sound. You get more flexibility to arrange your speakers inside the room, along with easy enjoyment of high quality surround sound.
Extra Bass Provides Rich Bass Reproduction, Even with Small Speakers
Yamaha' s exclusive low-range enhancement technology delivers richer bass than you expect from the speaker size while maintaining good localisation and sound balance even with compact front speakers. When a subwoofer is used, it improves the volume of the entire low range of the speaker system, not only the front speakers, but also enhancing the bass from the subwoofer. You'll enjoy video and music with sound that has exceptional power and presence.
Zone Extra Bass for More Powerful Bass Sound in Another Room (Zone 2)
Use the Extra Bass feature to amplify bass tones, not just in your main room but also on system in other room (Zones 2). Even with compact or in-wall speakers which typically lack bass, you'll hear all your sources with powerful bass sound.
Zone Volume Equalizer for Optimum Sound Balance in Another Room (Zone 2)
Automatically adjusts bass and treble balance to match the volume on system in other rooms (Zone 2). Enjoy movies and music with a natural sound quality balance even at low volumes.
Subwoofer Trim for Improved Sound Imaging
The Subwoofer Trim control enhances the low frequencies by avoiding overlap with the front speaker output. This will result in a cleaner, more focused sound stage while providing a seamless frequency response. When subwoofer frequency overlap occurs in conventional systems, the overall sound is "pushed" toward the subwoofer. Subwoofer Trim takes care of this by separating the low subwoofer frequencies cleanly, thus stabilising the front stage while providing a well-balanced enhanced bass sound.
Intelligent Amp Assign
Intelligent Amp Assign automatically assigns amplifier channels to certain speakers, depending on what functions are selected. For example, in a 7.1-channel system, when Zone 2 is off, all 7.1 channels will be used in the Main Zone. However, when Zone 2 is on, power to the two Surround Back channels will be directed to the two speakers in Zone 2, and the Main Zone will receive 5.1 channels of power. Similarly, when CINEMA DSP 3D is on, the two Front Presence speakers will be powered and not the two Surround Back speakers. When CINEMA DSP 3D is off, this situation is reversed. Furthermore, in a 5.1.2-channel system for Dolby Atmos or DTS:X, when Zone 2 is off, all 5.1.2 channels will be used in the Main Zone. However, when Zone 2 is on, power to the two height / overhead channels will be directed to the two speakers in Zone 2, and th e Main Zone will receive 5.1 channels of power. Thanks to Intelligent Amp Assign, there's no need to switch the speaker cables on the rear of the receiver―one more way Yamaha makes your life a little easier.
ECO mode Lowers Power Consumption by 20%*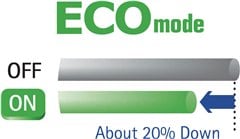 Yamaha's new ECO mode reduces power consumption by about 20%. It can be set from the top of the GUI menu.
*Compared to power consumption when ECO mode is off (Yamaha measurement).
Selectable Auto Power Standby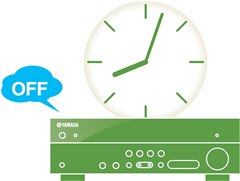 Auto Power Standby lets you save energy by selecting to turn off the power after 20 minutes, 2, 4, 8 or 12 hours.
Yamaha Eco-Product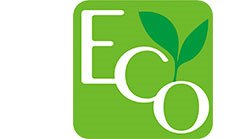 With an advanced energy saving design, this AV receiver achieves a low power consumption of not more than two watts when in Network Standby mode.

Dali Zensor 7 Speaker Package (5.1)

Dali Zensor 7 Floorstanding Speakers
The new DALI ZENSOR series is a genuine and affordable hi-fi loudspeaker unmistakably based on heritage from DALI's high-end series. And packed with in-house technology, new ideas, and its very own DALI personality.
Consisting of four models, the ZENSOR's cover every need from a compact stereo to an ambitious multi-channel set up. The smallest model includes integrated wall bracket for easy mounting, while both floor standing models are elevated from the floor by aluminium bases to refine acoustics and stability.
Last not least, the visual appearance is an eye pleaser - integrated in a high gloss lacquered front baffle as a natural extension of the sleek cabinet. The
ZENSOR design is contemporary, lasting, and stylish.

Dali Zensor 1 Speakers
ZENSOR - The new range from Dali a company driven by a raw passion for music and its honest reproduction in the domestic environment.
The development and refinement of new technologies to increase the realism of the home entertainment experience is the main objective in our quest to create what we believe to be the best loudspeakers in the world.

Specification:

- Compact bookshelf loudspeaker
- Ideal for home cinema and compact stereo solutions
- Wood/paper fibre cone drive unit
- 4mm banana plug/spade terminals
- High gloss black baffle
- 4-layer copper clad aluminium wire voice coil
- Vented voice coil and 220 gauss ferrofluid tweeter
- Available in Black Ash, Light Walnut and White Satin

Dali Zensor Vokal
The ZENSOR VOKAL is the Centre Speaker for the new DALI ZENSOR range, which introduces genuine hi-fi loudspeakers with refined in-house technology. Heritage from DALIs high-end products is evident, while performance and appearance join to create a satisfying best-in-class experience.
Specifications:
Frequency range (+/- 3dB) [Hz]: 47 - 26.500
Sensitivity (2,83 V/1 m) [dB]: 88,5
Nominal impedance [ohms]: 6
Maximum SPL [dB]: 109
Recommended amplifier power [W]: 30 - 120
Crossover frequencies: 2.400 Hz
High frequency driver: 25 mm Soft textile dome
Low frequency driver: 2 x 5.25"
Enclosure type: Bass reflex
Bass reflex tuning frequency [Hz]: 45,0
Connection input(s): Single wire
Recommended placement: Above/below TV/Screen
Loudspeaker type: Centre speaker
Magnetic shielding: Semi magnetic shielded
Max loudspeaker dimensions incl. base and grille (HxWxD) [mm]: 161 X 441 X 281
Loudspeaker weight [kg]: 6,8

Dali E-12F subwoofer


(WxHxD) 370 x 340 x 380

The launch of the DALI SUB E-12 F marks a new stage of what is possible at this level of subwoofers.

The new subwoofer from DALI features a 12" woofer, capable of moving plenty of air with power and precision. The cone is made from pure aluminium for maximum stiffness and a becoming exterior. Furthermore, the heavy magnet system wields a massive 4-layer, long-stroke voice coil.
All in all, the heavy-duty abilities of this "motor system" ensure that the woofer always follows the signal from the amplifier!

The heart of this subwoofer is the 170W RMS Class D amplifier with a highly linear response. Embracing a classic DALI trademark, it simply acts as a total low frequency extension of your AV system. The result is a powerful, well-balanced bass reproduction and flawless integration with your speakers. In addition, the integrated limiter helps protecting your subwoofer against overloading.

The back plate of SUB E-12F features controls for volume adjustment, phase, and upper cut-off frequency, while the power on/off function works automatically via signal detection. And with the options for LFE or LINE inputs, this subwoofer easily accompanies any AV set up.

SUB E-12F is elevated from the floor by an aluminium base, while a down-firing bass port allows positioning directly against the wall. The front grille is mounted by magnets only – and when removed, the visual appearance changes from discreet to extravagant as the pure aluminium cone is revealed.

The DALI SUB-12F is recommended as compliment to the new ZENSOR series and is compatible with all DALI loudspeakers as the perfect completion of a DALI surround set up.
Additional Information
| | |
| --- | --- |
| Promotion | No |
| Manufacturer's Part No. | RX-V683 |
| EAN | 4957812617628 |
| Amplifier Award | No |
| HDMI In | 6 |
| HDMI Out | 1 |
| Amplifier Power | 150 |
| Number of channels | 9,2 |
| Warranty | 2 yrs |
| Video Upscaling | Yes |
| Connections | Analog, Bi-Wire, Component, Digital Coaxial, Digital Optical (TOSLINK), Ethernet, FM/AM, HDMI, Headphone, Multi-Channel Output, S-Video, Subwoofer, USB |
| Features | Airplay, Audio Return Channel (ARC), Automatic Speaker Calibration, Bi-Wire, Bluetooth (In-Built), Digital Optical, DLNA, Dolby Atmos, DTS:X, Dynamic Volume Control, Ethernet, FM/AM, InstaPrevue, Internet Radio, MHL, Network (Internet), Remote Control App, Spotify, USB, WiFi (In-Built) |
| Dolby Atmos | Yes |
| DTS: X | Yes |
| HDMI Support | 4K UltraHD / HDMI 2.0a / HDCP 2.2 |
| Multi-Room Zones | 2 |
| Subwoofer Output | Yes |
| THX Certification | No |
| Colour Output (Lumen) | No |
| Speaker Type | Floorstander |
| Amplifier Dimensions | (W x H x D): 435 x 171 x 378 mm |
| Speaker Dimensions | Fronts: 994 x 257 x 320/Centre: 161 x 441 x 288/Rears: 274 x 162 x 220/Subwoofer: 370 x 340 x 380 mm |
| Room Calibration | YPAO-R.S.C. (Reflected Sound Control) Sound Optimisation |
| Unit Dimensions | No |
| Contrast Ratio | No |
| Speaker Award | No |
| Number of Drivers | N/A |
| Model | No |
| Type of Finish | Matt |

Finance options* to help you afford the product you want!
If your order value is £389.00 or over you will be given the option to buy on finance when you reach the checkout.
Please note that not all products are available on finance.


We have two finance options available:
Buy Now Pay 6 Months Later
Buy Now Pay 12 Months Later
Please Note: A minimum 10% deposit is payable up front on credit or debit card on all finance orders.
How to Apply
Applying for finance is simple. All you need to do is call us on 0800 634 4484 during opening hours and we will be able to process your order.
Who is the finance agreement with?
The finance agreement is with Hitachi Consumer Credit, one of the largest money lenders in the UK.
*Finance is available to UK applicants 18 years of age or older and subject to status. Finance is not available for business customers. Prices are correct at time of going to press and are subject to change during the term of this offer without notice. Terms and conditions are available on request. Finance agreements are available on orders between £389 and £10,000 (including VAT and shipping). Please ensure you are able to keep up repayments of any finance package taken.
Now Group UK Ltd trading as Exceptional AV operates under a Consumer Credit Licence, No. 560813.
This licence is issued by The Director General of Fair Trading at the Office of Fair Trading in accordance with the Consumer Credit Act 1974.