Bose Acoustimass 5 Series V AM5 Black
The Acoustimass 5 Series V home speaker system delivers spacious sound, adding drama to music. You'll get great performance for your music, every day.
EAN: 017817695640
Man. Part No.: Acoustimass 5 Series V
Description
Bose Acoustimass 5 Series V
In the box
Included items
- 2 Direct/Reflecting® speakers
- Acoustimass® module
- 4 speaker cables – 6.1 m
- Adhesive-backed rubber feet
Spacious sound for your music
Feel every nuance of your music come through in shining detail with the Acoustimass® 5 Series V system. Two redesigned Direct/Reflecting® Series II speakers feature a slim profile that adds style to the sound. And a hideaway Acoustimass® module delivers deep low notes for all your favourites. If there's a place for music in the larger spaces of your home, this system will fit right in.
- Spacious stereo performance from a sleek system
- Redesigned Direct/Reflecting® Series II speakers fill the room with clear, lifelike sound
- Deep low notes from a hideaway Acoustimass® module
- Cables and connectors included and clearly marked for easy setup with a stereo receiver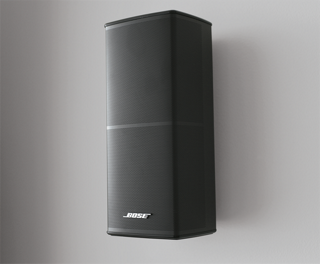 Prolific sound. Slim profile.
Direct/Reflecting® Series II cube speakers sport a sleek design that catches the eye. Inside each cabinet, precisely angled drivers fill your room with spacious performance and no "sweet spots." The speakers can also mount flush to the wall with optional brackets, eliminating nearly two inches of extension compared to the previous model.
Give your music a little thump
A solid bass line or a punchy drum beat helps a song come alive. Our Acoustimass® module reproduces that kind of low note performance with deep, clear precision at any volume—and without audible distortion. Place the module out of view, and all your sound will seem to pour from the tiny cube speakers.
Spec
Additional Information
| | |
| --- | --- |
| Promotion | No |
| Manufacturer's Part No. | Acoustimass 5 Series V |
| EAN | 017817695640 |
| Warranty | 2 Years |
| Speaker Type | Satellite |
| Speaker Award | No |
| awards | No |
| Colour | Black, White |
| Features | No |
| Speaker Dimensions | Speakers (H x W x D): 189 x 83.2 x 84.9/Acoustimass Module: 355 x 190 x 480 mm |
| Type of Finish | Matt |
| Type of Tweeter | No |
| Recommended Amplifier Requirements | No |
| Number of Drivers | N/A |
| Driver Size | No |
| Type of Connection | No |
Finance
Finance options* to help you afford the product you want!
If your order value is £389.00 or over give us a call to buy on finance.
Please note that not all products are available on finance.


We have two finance options available:
Buy Now Pay 6 Months Later
Buy Now Pay 12 Months Later
Please Note: A minimum 10% deposit is payable up front on credit or debit card on all finance orders.
How to Apply
Applying for finance is simple. All you need to do is call us on 0800 634 4484 during opening hours and we will be able to process your order.
Who is the finance agreement with?
The finance agreement is with Hitachi Consumer Credit, one of the largest money lenders in the UK.
*Finance is available to UK applicants 18 years of age or older and subject to status. Finance is not available for business customers. Prices are correct at time of going to press and are subject to change during the term of this offer without notice. Terms and conditions are available on request. Finance agreements are available on orders between £389 and £10,000 (including VAT and shipping). Please ensure you are able to keep up repayments of any finance package taken.
Now Group UK Ltd trading as Exceptional AV operates under a Consumer Credit Licence, No. 560813.
This licence is issued by The Director General of Fair Trading at the Office of Fair Trading in accordance with the Consumer Credit Act 1974.