Bose Home Speaker 500 Triple Black
Home Speaker 500 Triple Black is powerfully simple. Fill any room with wall-to-wall stereo sound, while Alexa puts millions of songs at the tip of your tongue. Inside the Bose Home Speaker 500, two custom drivers point in opposite directions to bounce sound off the wall
... more
EAN: 0017817787758
Man. Part No.: 795345-4100
Description
View other colours...
Bose Home Speaker 500
(Triple Black)
THE WIDEST SOUND OF ANY SMART SPEAKER
It's powerfully simple. Fill any room with wall-to-wall stereo sound, while Alexa puts millions of songs at the tip of your tongue.
Wall-to-wall stereo sound from a single speaker
Inside the Bose Home Speaker 500, two custom drivers point in opposite directions to bounce sound off the walls. The result? A wider soundstage than any other smart speaker, powerful enough to fill any room with an astonishing stereo performance.
Built-in voice control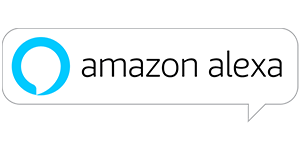 Play. Pause. Shuffle. Or skip to your favourite song. You'll have millions of playlists, albums and more at the tip of your tongue. With Alexa built in, you have access to things like weather reports and news headlines, too. So if you want to hear something, just ask. And future software updates will add new features.
Superior voice pickup
Turning the music up at a party? It's not a problem for our voice pickup technology. Just under the surface is a custom-designed eight-microphone array, so the speaker still hears you, even when it gets loud. You can turn off voice access whenever you want, too. Just tap the microphone off button to cut power to all microphones and continue to access the other features of the speaker.
CONTROL COMES EASILY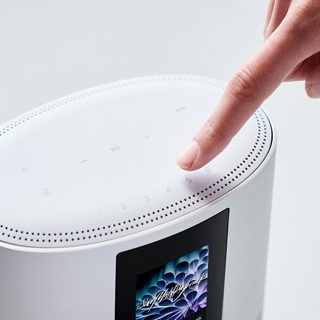 Control doesn't stop at just voice. You can tap the top controls to play, pause or skip tracks, or manage it all from the Bose Music app. And you can set up to six different presets for playlists, Internet radio stations and more, so your favourites are just a tap away.
MUSIC. ANY WAY YOU WANT IT.

When it comes to what you want to hear, you have so many options. Play your favourite music services, like Spotify® or Amazon Music, over a home Wi-Fi network at the touch of a button. Or, use a Bluetooth® connection to play anything from a phone or tablet. And Apple AirPlay 2 is coming in early 2019.
Take control of your listening experience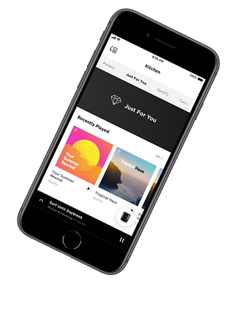 With the Bose Music app, you can easily browse through all your music in one place and seamlessly jump between stations, playlists and services. Plus, it's another simple way to control the Bose Home Speaker 500. Setting up presets with the app is easy, so the music you love is just one touch away. And multiple users can personalise their own experience and content.
Premium design, inside and out
The Bose Home Speaker 500 looks as good as it sounds. A seamless, anodised aluminium body gives the speaker a refined finish that's perfect for any room.
Spec
Additional Information
| | |
| --- | --- |
| Promotion | No |
| Manufacturer's Part No. | 795345-4100 |
| EAN | 0017817787758 |
| Warranty | 2 Years |
| Speaker Type | Active/Wireless |
| Speaker Award | No |
| awards | No |
| Colour | Black, Silver |
| Features | No |
| Speaker Dimensions | (H x W x D): 20.3 x 17 x 10.9 cm |
| Type of Finish | No |
| Type of Tweeter | No |
| Recommended Amplifier Requirements | No |
| Number of Drivers | 1 |
| Driver Size | No |
| Type of Connection | No |
Finance
Finance options* to help you afford the product you want!
If your order value is £389.00 or over give us a call to buy on finance.
Please note that not all products are available on finance.


We have two finance options available:
Buy Now Pay 6 Months Later
Buy Now Pay 12 Months Later
Please Note: A minimum 10% deposit is payable up front on credit or debit card on all finance orders.
How to Apply
Applying for finance is simple. All you need to do is call us on 0800 634 4484 during opening hours and we will be able to process your order.
Who is the finance agreement with?
The finance agreement is with Novuna (formerly Hitachi Consumer Credit), one of the largest money lenders in the UK.
*Finance is available to UK applicants 18 years of age or older and subject to status. Finance is not available for business customers. Prices are correct at time of going to press and are subject to change during the term of this offer without notice. Terms and conditions are available on request. Finance agreements are available on orders between £389 and £10,000 (including VAT and shipping). Please ensure you are able to keep up repayments of any finance package taken.
Now Group UK Ltd trading as Exceptional AV operates under a Consumer Credit Licence, No. 560813.
This licence is issued by The Director General of Fair Trading at the Office of Fair Trading in accordance with the Consumer Credit Act 1974.