Yamaha WXAD-10 Add MusicCast Wireless Adapter
Yamaha WXAD-10 Add MusicCast Wireless Adapter
Simply connect the WXAD-10 to your current audio system, and make your whole system smart! Wireless music playback with Bluetooth® and Airplay®, music streaming services, and more are yours to enjoy ― like never before. It's also compatible with Yamaha's wireles
... more
EAN: 4957812619080
Man. Part No.: WXAD10
Description
Yamaha WXAD-10 Wireless Streaming Adaptor
...Connects your current system to your MusicCast system...
Simply connect the WXAD-10 to your current audio system, and make your whole system smart! Wireless music playback with Bluetooth® and Airplay®, music streaming services, and more are yours to enjoy ― like never before. It's also compatible with Yamaha's wireless music system MusicCast, so you can add your audio components to the world of MusicCast and infinitely expand your music listening possibilities. The WXAD-10 brings intelligent new functions into your current system, taking it beyond past constraints and truly making it 'smart' with all the latest, convenient features.
- Opening up a new world of music
- MusicCast for audio enjoyment in every room
- Control app for easy operations (MusicCast CONTROLLER)
- Connectable to any audio device
- High-quality sound, compatibility with high-resolution sources
- High-quality sound in-house-design network module
- Clavinova, welcome to MusicCast world!
- Simple and refined design
Features

Opening up a New World of Music
The WXAD-10 has high-performance wireless network capabilities that let you stream digital music content from your smartphone or tablet, as well as music libraries from your computer or network storage, plus a variety of online streaming services and Internet radio — for accessing any music you want. Plus, with the MusicCast features, you can share music with MusicCast-enabled devices in other rooms of your home.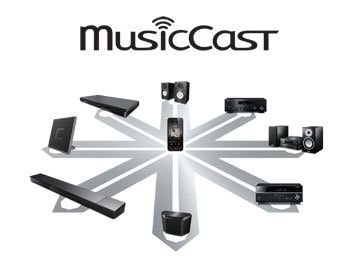 MusicCast
MusicCast is a new revolution in network audio, use all your MusicCast products together or separately, it's completely up to you. Control it, all from one app, designed to be intuitive, quick and simple to use. Use a soundbar, a wireless speaker, an AV Receiver, HiFi audio whichever suits you best, mix and match then expand your MusicCast system as time goes on. All new from Yamaha, the MusicCast system brings everything to everywhere for everyone.
Control App for Easy Operations
The dedicated MusicCast CONTROLLER app lets you use your smartphone or tablet to easily and conveniently select desired songs and streaming music services, control the volume*, and more. You can also use the app on your smartphone to remotely control all your MusicCast-compatible devices in other rooms.
* Available only for stereo mini-plug connection
Connectable to Any Audio Device
Equipped with RCA and stereo mini output terminals, the WXAD-10 can be connected to a wide range of audio products — whatever components you currently have. Use it with a shelf stereo system, Hi-Fi component, home theatre system, or even a soundbar. The possibilities are endless.
High-quality Sound, Compatibility with High-resolution Sources
The WXAD-10 supports a wide range of high resolution formats, including WAV, FLAC and AIFF in 192 kHz / 24-bit resolution, as well as ALAC in 96 kHz / 24-bit resolution. Moreover, the unit employs a special circuitry design that minimises and optimises the signal path, and utilises high-quality parts and technologies — including the renowned Burr-Brown DAC, original PML condensers used in Yamaha's AV receivers, and Yamaha's own original technology which combines network modules to achieve jitter reduction. As a result, the unit thoroughly draws out all the sonic merits of high-resolution sound sources, effectively reproducing even the subtle ambience of concert halls and delicate expressive nuances in the sound.
High-quality Sound In-house-design Network Module
The key device that determines the sound quality of network audio is the Yamaha Original Network Module, which contains a high precision low-jitter clock that improves the reproduction of high resolution sound sources. Pure audio clock generation without an added jitter constituent caused by the clock generator sharply lowers the creation of jitter noise in playing network and Bluetooth® sources, and achieves further S/N improvement. It faithfully distinguishes delicate differences in the sonic characteristics of high resolution sound.
Simple and Refined Design
Featuring a matte finish, like that of fine ceramics, with gentle indentations in the top surface, the WXAD-10 was designed to match any décor and radiate a quiet presence. The simple, unassuming appearance fits nicely and naturally alongside virtually any audio component.
Clavinova, Welcome to MusicCast World!
By connecting the WXAD-10, Yamaha's famed Clavinova digital piano will be reborn as a network streaming speaker. You can play smartphone sound sources wirelessly and listen to various streaming services easily from your Clavinova. Moreover, it supports Yamaha's unique wireless music system MusicCast, allowing you to enjoy background music freely throughout your house, in any room. Easily play streaming services using the convenient smartphone App, and play along on the piano with your favourite songs — and enjoy even more fun and expanded possibilities with the Clavinova.
* Only Clavinova models having external inputs can be connected.
* For the connectors on the WXAD-10, make sure to use the Stereo Mini output, which allows volume control.
* To provide power for the WXAD-10, use the included USB adaptor.
* Music service availability varies by region.
Spec
Additional Information
| | |
| --- | --- |
| Promotion | No |
| Manufacturer's Part No. | WXAD10 |
| EAN | 4957812619080 |
| Amplifier Award | No |
| Warranty | No |
| Connections | No |
| Amplifier Power | No |
| Number of channels | No |
| Features | No |
| Amplifier Brand | No |
| DAC Bits | No |
| Number of Decks | No |
| Speed | No |
| Amplifier Dimensions | No |
| Cd Player Dimensions | No |
| Tuner Dimensions | No |
| Unit Dimensions | No |
Finance
Finance options* to help you afford the product you want!
If your order value is £389.00 or over you will be given the option to buy on finance when you reach the checkout.
Please note that not all products are available on finance.


We have two finance options available:
Buy Now Pay 6 Months Later
Buy Now Pay 12 Months Later
Please Note: A minimum 10% deposit is payable up front on credit or debit card on all finance orders.
How to Apply
Applying for finance is simple. All you need to do is call us on 0800 634 4484 during opening hours and we will be able to process your order.
Who is the finance agreement with?
The finance agreement is with Hitachi Consumer Credit, one of the largest money lenders in the UK.
*Finance is available to UK applicants 18 years of age or older and subject to status. Finance is not available for business customers. Prices are correct at time of going to press and are subject to change during the term of this offer without notice. Terms and conditions are available on request. Finance agreements are available on orders between £389 and £10,000 (including VAT and shipping). Please ensure you are able to keep up repayments of any finance package taken.
Now Group UK Ltd trading as Exceptional AV operates under a Consumer Credit Licence, No. 560813.
This licence is issued by The Director General of Fair Trading at the Office of Fair Trading in accordance with the Consumer Credit Act 1974.